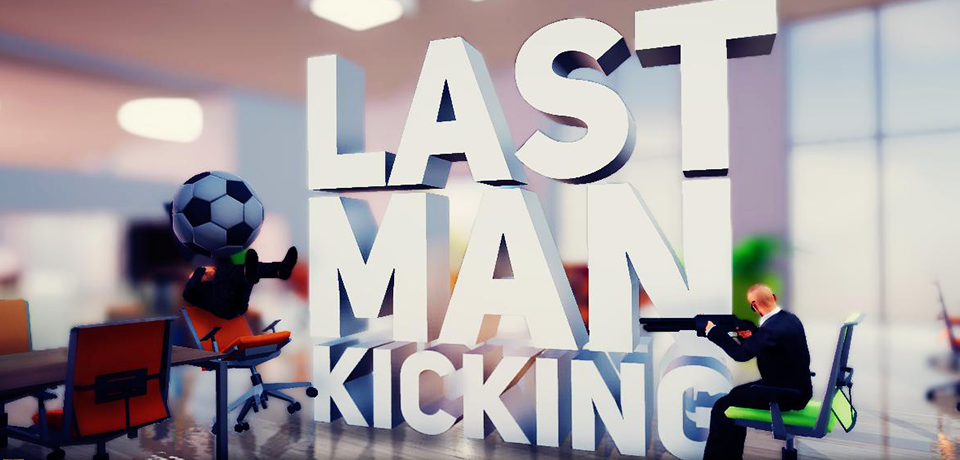 Last Man Kicking
A downloadable game for Windows and macOS
| A bunch of dudes sit in an office, all of them wearing black suits and white collared shirts. Everyone sits in the same swivel chairs. For a video game, Last Man Kicking sounds really boring. Add shotguns ragdoll physics, and a ball though, and you have a recipe for the only soccer game left to make. | |
| --- | --- |
The best way to describe Last Man Kicking would be to say "Its Rocket League with swivel chairs and Shotguns". You can Play a 2vs2 swivel chair shotgun soccer match with your friends or alone against the Ai.
Gamepad and Keyboard are supported to 100% - You can even play with up to 4 people on one keyboard! No Online Multiplayer!
The History of Last Man Sitting is quite Chaotic. I was working on a very boring GTA clone and out of the sudden, a wild bug appeared which pushed my character always backward while I was trying to shoot. This Bug was actually pretty fun to use and so I ended up creating a whole Game out of it. The first appearance of Last Man Sitting in the wild resulted in an overwhelming reddit post with more then 100.000 up votes. I realized pretty fast that there are a few people out there that like this game and so I ended up setting up a steam page for Last Man Sitting where you can already add it to your whishlist.
Last Man Kicking IS NOT Last Man Sitting. After the reveal of this game a lot of people asked me if there is a Demo available but I always had to say "no" since I don't wanted to give out a half assed broken Demo version just to show something. So I took quite a lot of time to create this Mini Game called "Last Man Kicking" now and put a lot of love in every inch of this Game to give you a experience that is worth your money!
So this is a paid Demo? Sounds a bit greedy!
In theory I would love to give out everything I do for free but since I am a single developer its hard to shovel away time to work on this Game but most importantly is the fact that my current Laptop is dying and I urgently need a new one but Iam more or less broke at the moment
During the GlobalGameJam 2018 I was working on a nice little Penguin Game but 1 hour before the deadline my Laptop decided to melt my SSD and since I haven't used any version control the whole game was gone. And the same thing happened again 1 week later. So 2 SSDs in 1 week - I think thats a wake up call to buy a new machine.
"you have a recipe for the only battle royale game left to make"
5/7 – Kotaku
"Office chair battle royale game Last Man Sitting looks dope"
5/7 – Destructoid
"Basically, it's a recipe for chaos"
5/7 – PC Gamer
Early Support should be rewarded!

Buying this Game means a lot to me! And I thought a lot about what could I give back to the early supporters of this Game. So If you buy Last Man Kicking, you will get a Special Chair and Hat for Last Man Sitting which you see here on the right side. I will sent you a message how to activate this once Last Man Sitting is released. Thank you!
So... do I get Last Man Sitting when I buy this?
No, I wanted to give out this Game for a relative low price. So this is no pre-order!
Does it have online Multiplayer?
No, its local only for up to 4 people but also with Bots/Ai Players
When will Last Man Sitting be out?
As you can see Last Man Kicking has a high quality regarding Sound, Graphics and general Presentation. I want to keep this high level of Quality so Last Man Sitting will take some time til' its done. I don't want to say when exactly because I wanna deliver the best possible Game and don't let time dictate that - so its done when its done :)
Can I stream this Game on youtube/twitch?
Of course! I would love to see some lets plays! don't forget to share them in the comment section :)
I downloaded the LastManKicking.zip - what should I do with it?
First you have to unzip it (if you don't know how, here is a quick tutorial) and then run the LastManSitting.exe
Do you have a Linux Version?
Thats not planed at the moment
The Framerate drops a bit when I score a goal/after the Explosion?
The Explosion and the Destructible Glass around is quite performance heavy. there is a HQ/LQ switch in the main menu where you can turn this off by setting it to LQ. That should help if you have performance preoblems.
Cool song! Where can i get it?
You will find in the download section a press.zip next to the Game zip. It contains some screenshots and the Song as mp3. The Vocals of the song has been recorded and shouted by Desert Colossus, check them out :)
Sounds like shit with your Laptop, can I help somehow?
If you are Alienware, Dell, Apple, Microsoft, Lenovo, HP whatever... You can sent me a new machine and I will tell everyone how great it is :) other then that, you can support my game creation on my patreon orbuy one of my other games if you like :)
So, where can I add Last Man Sitting to my steam Wishlist?
Right here:
don't forget to add Last Man Sitting to your steam wishlist

Download
Click download now to get access to the following files:
LastManKickingPresskit.zip
117 MB
LastManKicking_1_1_Mac.zip
123 MB
LastManKicking_1_1_Win64bit.zip
121 MB