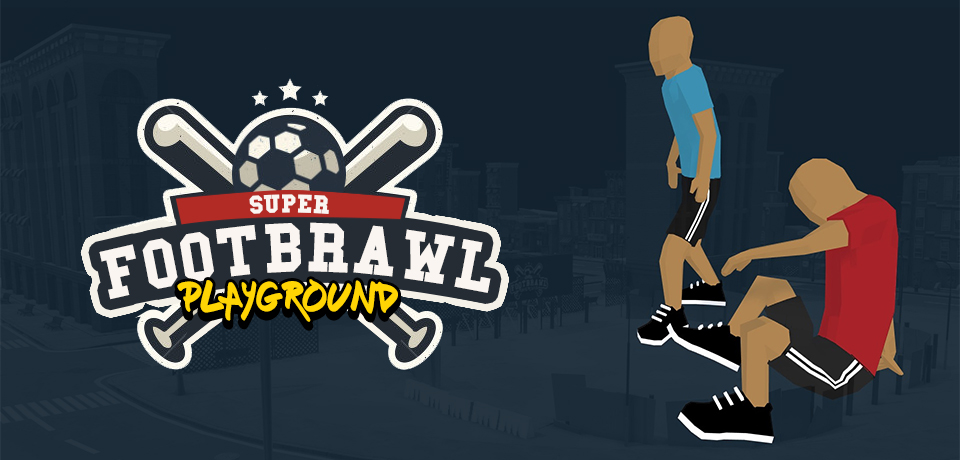 Footbrawl Playground
A downloadable game for Windows and macOS
Footbrawl Playground is a Physics Playground and in fact the most pointless Game in the world. So I came up for the Idea of "Footbrawl Playground". Its actually just a Physics Playground where you can goof around with a Friend, spawn NPCS, Place Traps and some more stuff. Don't expect a Game of the year but rather have 5 minutes of fun without thinking too much.
If you wanna know more about the current status of the Game, Visit my Blog or follow me on twitter.
Decide if you wanna play a round of Football...
...or just try to be the nicest Stuntman in the world!
you are able to place all traps freely AND it has Local Multiplayer (Keyboard only for now)
... or play a round of car soccer like in this other car soccer Game... i forgot the name...
---
Fully customizable Physics Playground
Drivable Cars
Low Gravity Mode
Slow Motion Mode
Car Soccer
Local Multiplayer for 4 Players
Placeable Traps like

Bounchers
Human Pinball
Explosive Barrles
Ramps
Spinner
you want more? looking forward to new requests!

Basic Soccer Mode
Spawn as much NPCs and Cars as you want and enjoy the madness
Gamepad Support
Multitrack Camera (so that all players are always on screen)
Minimum:
OS: Windows Vista / Windows 7 or newer
Processor: 2.4GHz Dual Core
Memory: 4 GB RAM
Graphics: 512 MB NVIDIA GeForce 9800 / ATI Radeon HD 2600 XT
DirectX: Version 10
Storage: 2 GB available space
Recommended:

OS: Windows Vista / Windows 7 or newer
Processor: 2.4GHz Dual Core
Memory: 4 GB RAM
Graphics: 1 GB NVIDIA 460 / AMD Radeon 5870
DirectX: Version 11
Storage: 2 GB available space
please read this manual before you start playing
---
Website: playground.pixelpizza.de
twitter: https://twitter.com/Der_Kevin
facebook: phttps://www.facebook.com/Footbrawl
subreddit: https://www.reddit.com/r/Footbrawl/
Newsletter: phttp://eepurl.com/b1lUV9
All paying customers of Footbrawl playground on itch.io can obtain a steam key when they click the request key button on their purchase page!
You can also do this if you if you bought the Game in the past!
Download
Click download now to get access to the following files:
Footbrawl_Playground_003.zip
82 MB
Footbrawl_Playground_004beta2.zip
143 MB